Mission Statement
Artemis Motion Pictures brings you the first film festival dedicated to honoring female action and empowerment heroes.
We celebrate powerful women taking action onscreen. From female action heroes to female activists, we shine a spotlight on women in narrative, documentary and animated films who are fearless, fierce, and revolutionary.
AWIAFF extols the women who kick ass and change culture! Film has both the power to entertain and to awaken - to awaken awareness of the dynamic and powerful roles of women in our society and throughout the world. Our festival mission is to both kick ass and open minds.
Every spring, we offer a special affair to honor those contributing to the female action and empowerment genres, showcase amazing works featuring females leading roles of all kinds, and inspire audiences.
AWIAFF is produced by Artemis Motion Pictures.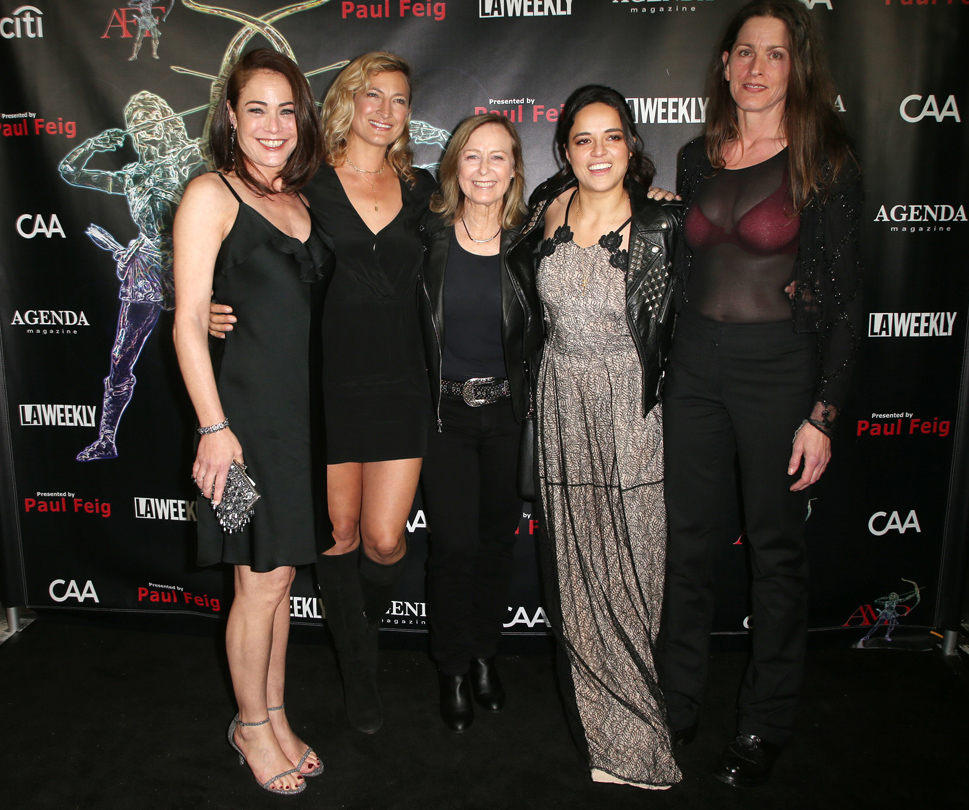 Artemis was very proud to have Paul Feig present our 2018 edition. He was joined by sponsors CAA, LA Weekly, Agenda Magazine, Citi, Final Draft, Habibi Bath & Body, and others.
The festival recognized Actress Michelle Rodriguez, Actress Ming-Na Wen, Director Rosemary Rodriguez, Director/Stuntman TJ Scott, Actress Dana DeLorenzo and stunt performers Debbie Evans, Alicia Vela-Bailey, Danielle Burgio, Kachina Dechert, Heidi Pascoe and Cassandra Ebner for their excellence in the female action genre.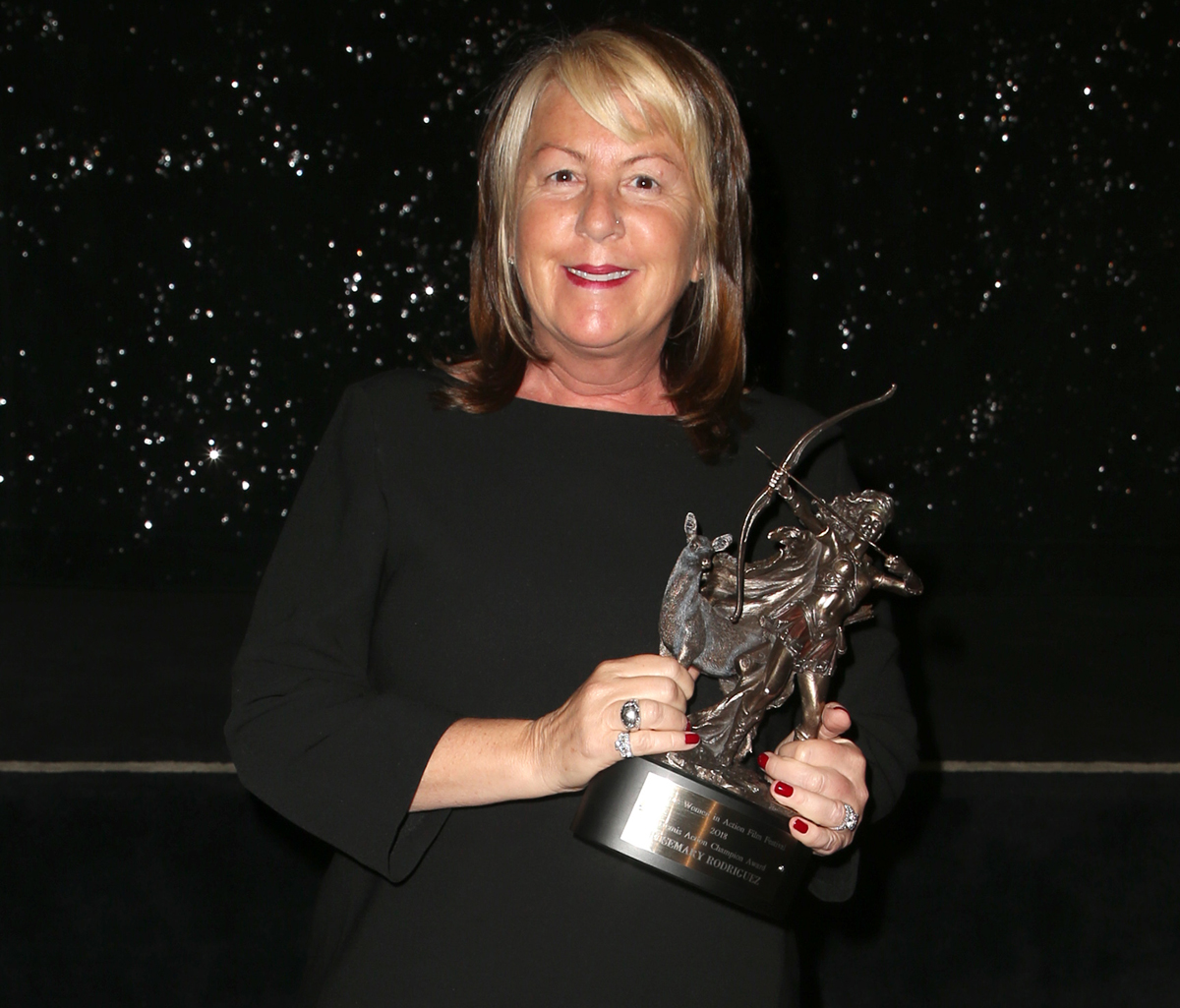 The festival received submissions from 32 countries, screened 78 films, expanded the number of screens as well as the panels and workshops offered. The filmmaker competition awards were expanded to recognize outstanding stunt work and choreography.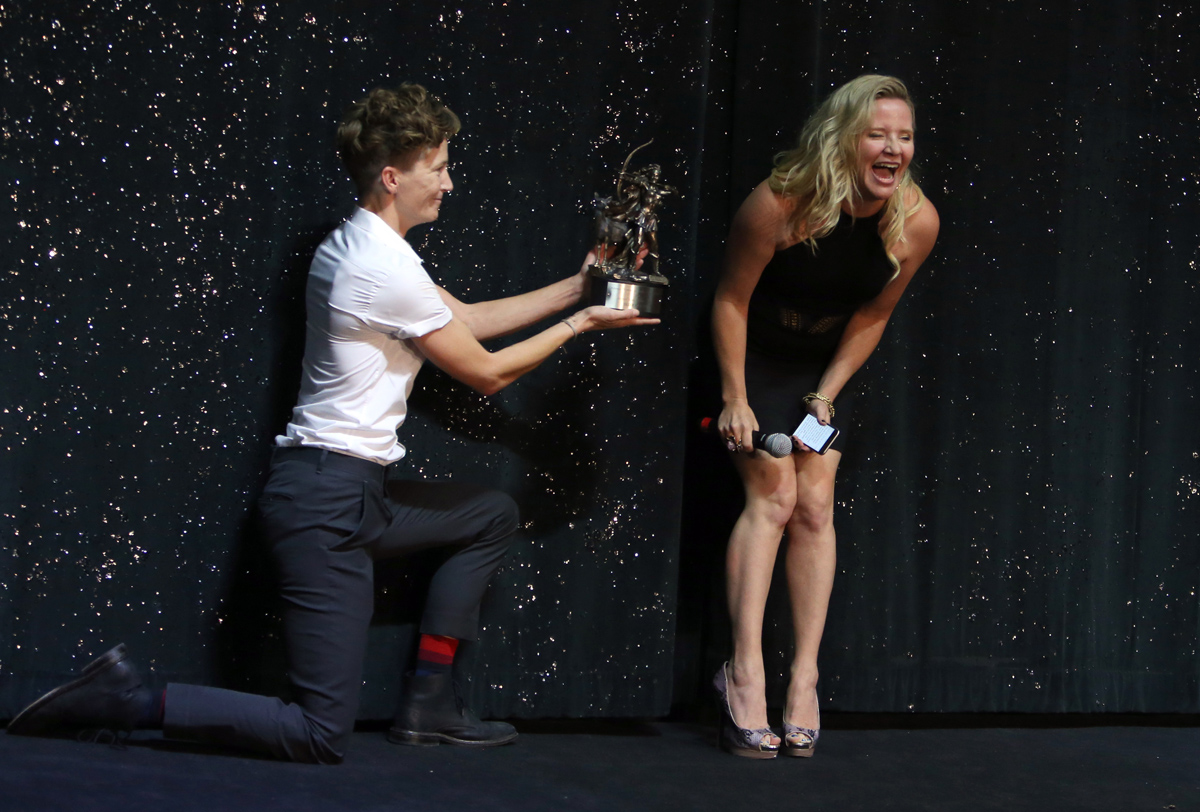 The panels included Artemis' signature All-Stars of Stunts and Warrior Women panels. In honor of the #MeToo movement, the edition included A Sex Type Thing panel discussion hosted by August McLaughlin. The 2018 edition also included a cannabis panel discussion hosted by Windy Borman and two workshops on indie film financing, hosted by Ms. In The Biz and Seed N Spark.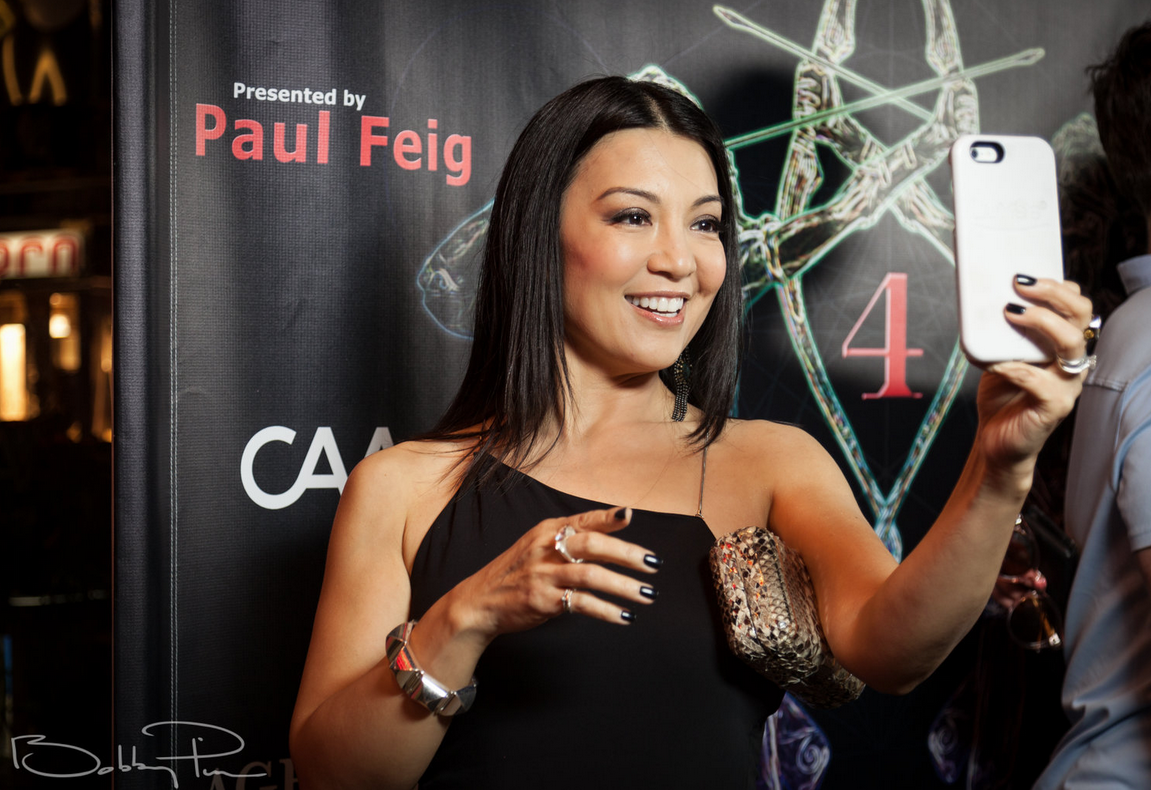 The fourth edition was kicked off with The Artemis Awards Gala. Strong female characters were the theme and the lineup of action heroines and stuntwomen that showed up on the black carpet to receive their due at the awards presentation was impressive. Arrivals included all 2018 honorees as well as David Mazouz, Dot Marie Jones, Victoria Smurfit, Richard Portnow, Kristanna Loken, Yancy Butler, Zoe Bell and many others too numerous to mention.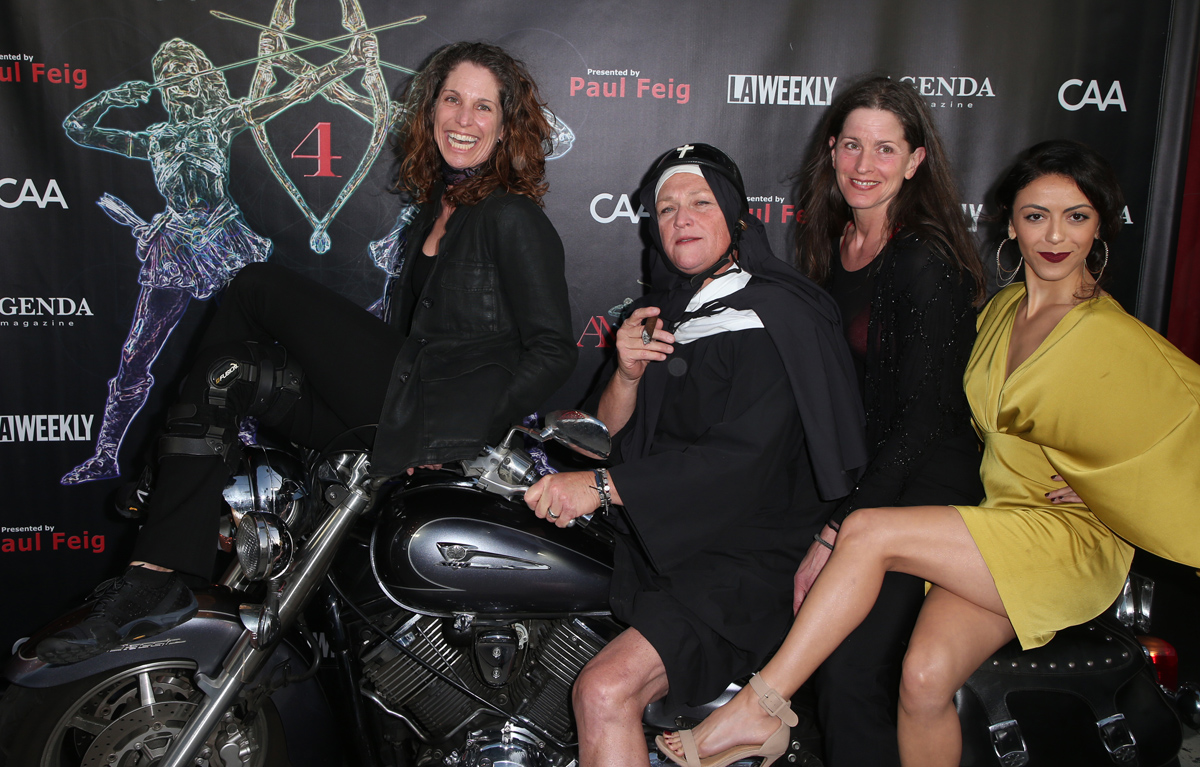 A big highlight during arrivals was Dot Marie Jones—a cast member of the 2018 AWIAFF award-winning film Combat Nuns: All or Nothing surprised everyone when she drove on the sidewalk and parked her Harley right on the black carpet. The stunned crowd was delighted as Jones, dressed in a nun's habit, took a drag off her cigar. Artemis Women In Action Film Festival Director Melanie Wise, AWIAFF Financial Advisor Malissa Wise (handle bars) and the evening's host Grace Parra (right) hopped onboard the bike with Dot as the cameras snapped in a frenzy of excitement.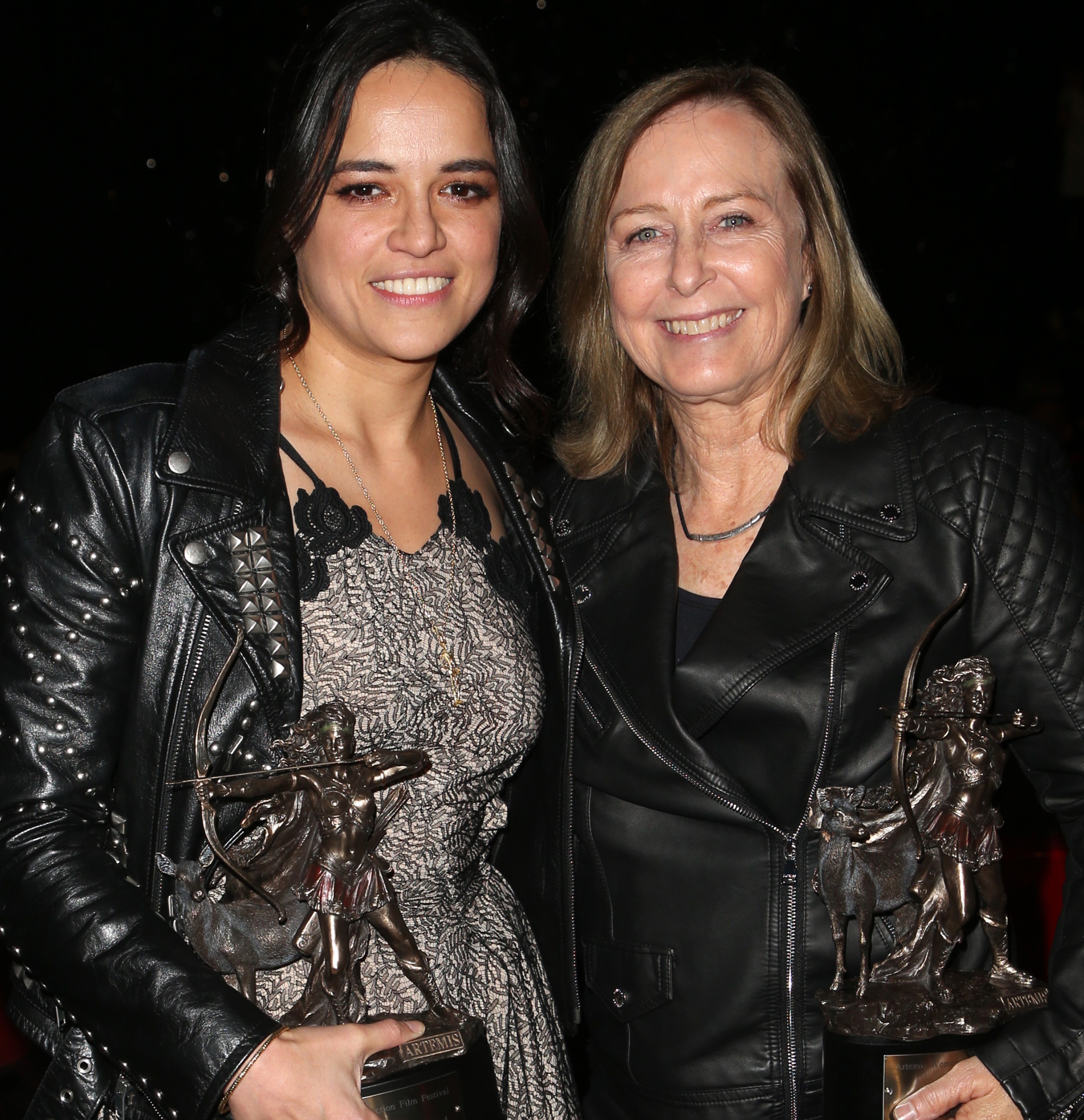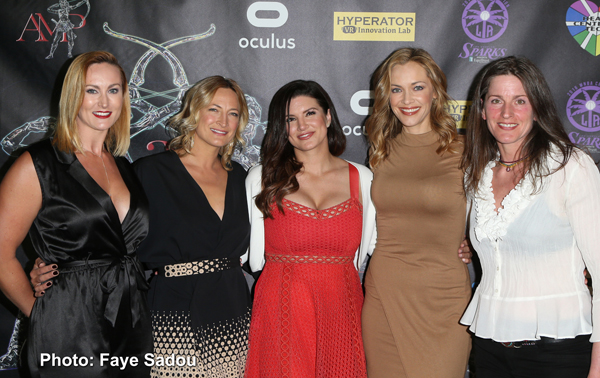 In 2017, the festival was Presented by Paul Feig. This year, the festival recognized Actor/Producer Tom Cruise, Actresses Melissa McCarthy, Cynthia Rothrock, Gina Carano, Ingrid Bolsø Berdal, and stunt performers Andy Armstrong, Jennifer Caputo, Tammie Baird, and Luci Romberg.
Submissions were received from 30 countries and the festival showcased 68 films. Once again, our VIP celebrity guests were very numerous and several of our 2015 and 2016 honorees returned to the festival. Artemis was also very proud to welcome Santa Monica Mayor Ted Winterer to our 2017 edition.
Our 2017 edition included our famous All-Stars of Stunts Panel and featured our 2017 stunt honorees. Once again, we offered our Warrior Women panel which featured Historian Walter Penrose, Mythology Professor Kimberly Ball, Gender Studies Professor Kimberly Clair, Aikido master Michele Benzamin-Miki, Jiu-Jitsu black belt Goddess Severa, and MMA fighter Anita Tekk.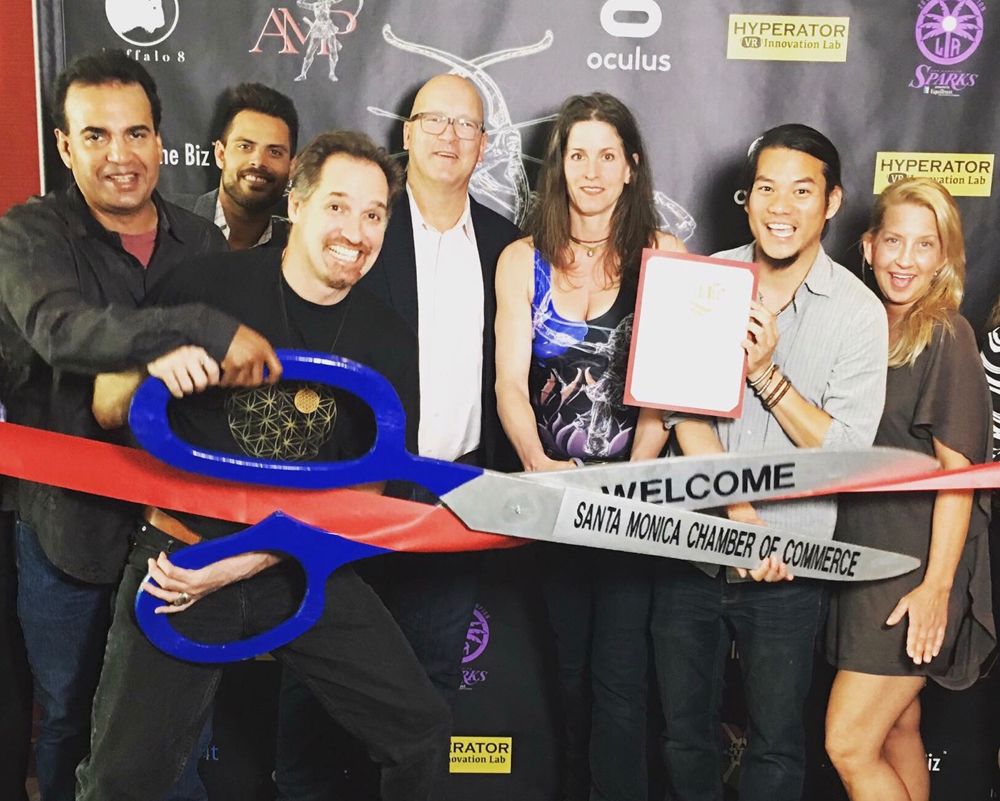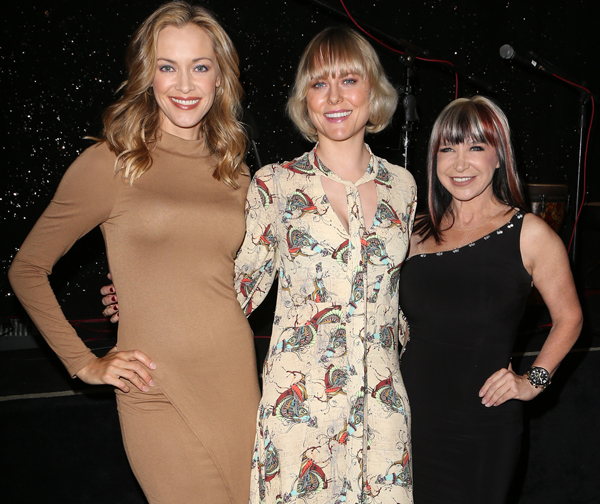 Additionally, in 2017 our panel discussions were expanded to offer a Virtual Reality Panel featuring the women on the leading edge of VR and a Film Finance Panel featuring Producer, Brent Emery, Producer, Matthew Helderman, Producer, Michael Roban, Attorney, Nancy McCullough, and Film Finance and Analytics Consultant, Barbara Chiodo, as well as a Q & A sessions with the L.A. Sparks.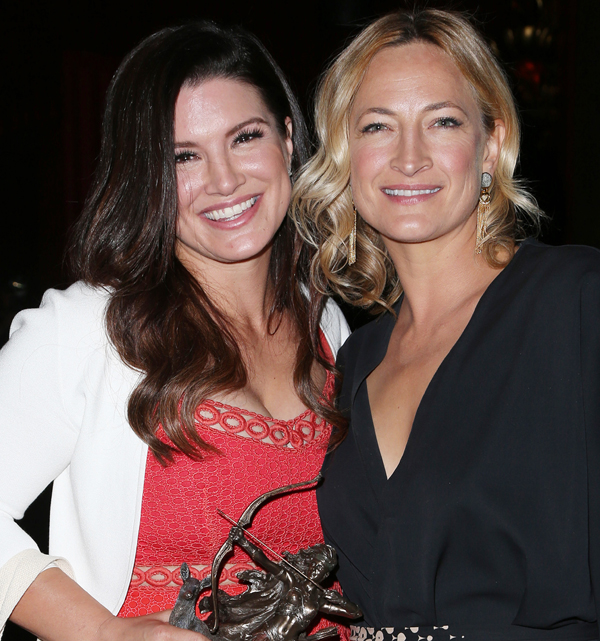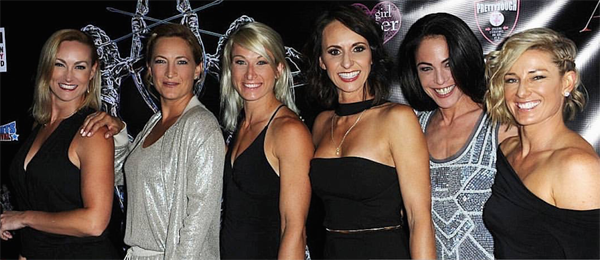 Our 2016 honorees were writing/directing superstar Paul Feig (director of Ghostbusters, Bridesmaids, Spy and The Heat), Yancy Butler, Zoe Bell, Heidi Moneymaker, Dayna Grant and Jessie Graff. For this edition, the festival received films from 28 countries and screened 42 films. Our red carpet was visited by many celebrity guests too numerous to mention 😀 In 2016, our All-Star Stunt Panel included some of the greatest stuntwomen working today, Zoe Bell, Jessie Graff, Heidi Moneymaker, Dayna Grant, Angela Meryl, Maja Aro, Indus Alelia and stunt legend Andy Armstrong.
The 2016 festival also included a first-ever panel on Women Warriors that featured a legendary Archaeologist/Author Jeannine Davis-Kimball, Professor of Germanic Languages, Scandinavian mythology specialist, Kimberly Ball, World War II WASP aviator, Alice Stevens Rohrer and filmmakers focused on military women: Hillary Prentice, Producer of Fly Girls, Christine and Mark Bonn, Filmmakers. Wings of Silver: Vi Cowden Story.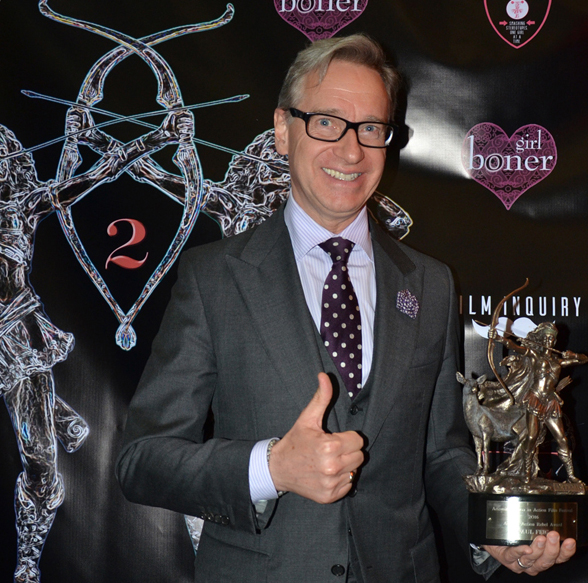 2015 Festival Highlights
2015 marked the inaugural year of The Artemis Women In Action Film Festival.
In 2015, the festival honored entertainment luminaries Linda Hamilton, Kristanna Loken, Gina Torres, stunt women Angela Meryl and Maja Aro, and fight promoter Shannon Knapp. Artemis' red carpet was graced by several of our honorees, as well as other notable guests Dot Marie Jones, Jane Sibbitt and former Mayor Antonio Villaraigosa.
The first year, submissions came in from over 25 countries, 43 films were screened, and the festival featured Artemis' very first All-Stars of Stunts Panel discussion which included stunt women Angela Meryl, Maja Aro, Tammie Baird, Alina Andrei, Crystal Michelle, and Indus Alelia.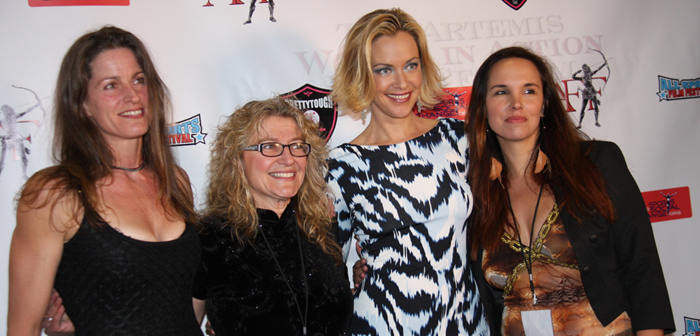 Artemis Women in Action Film Festival wants YOUR films, shorts, screenplays, and music!
Artemis Women in Action Film Festival Qualifiers
Submit all narrative, animated, documentary FILMS and SCRIPTS featuring women
either starring or co-starring as a physical action character or agent of social change.
We celebrate women in kick ass roles.
Submit all MUSIC in any genre that is a film score, composition, song, or theme song
created by female composers, female led bands, and female solo artists.
Submission Categories.

FILMS - 40 minutes or longer
SHORTS - up to 40 minutes
SCRIPTS, Features (70-120 pgs) & Pilots (45-60 pgs)
FILM SCORES and MUSIC in all genres
Key Dates & Fees
EARLY Deadline - 09/15/18; Features - $65.00, Shorts and Screenplays - $40.00
REGULAR Deadline - 10/31/18; Features & Feature Film Scores - $70.00;
Shorts, Short Film Scores and Screenplays - $45.00; Music - $10.00
LATE Deadline - 12/15/18; Features & Feature Film Scores - $80.00;
Shorts, Short Film Scores and Screenplays - $55.00; Music - $15.00
EXTENDED Deadline - 01/15/19; Features & Feature Film Scores - $90.00;
Shorts, Short Film Scores and Screenplays - $65.00; Music - $25.00
Notification of Acceptance - Approx Mar 1, 2019
Exhibition Materials Deadline - Apr 1, 2019
Deadlines for student submissions will observe the calendar above. Fees are deeply discounted for students 😀
Where to Submit
Submissions are available directly through Artemis, open on FilmFreeway
and Withoutabox. Discounts and student submissions are only processed directly through our website.
About Us
Artemis was founded by Melanie Wise and Zac Baldwin, filmmakers with a long time love of female driven action films. They've produced shorts and features focusing on female action projects.
They saw that the genre was loved by audiences around the globe, despite the fact that studios, for many years, claimed female action films were box office poison. In 2014, the idea of Artemis was born with the intent to create a space where these types of films could play for audiences with an unsatisfied hunger of female driven action films.
To learn more about our team, please click here.